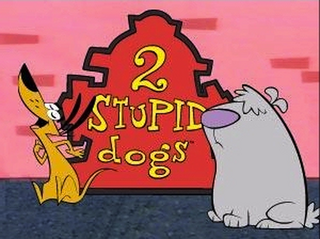 2 Stupid Dogs is an American animated television series, created and designed by Donovan Cook and produced by Hanna-Barbera and Turner Program Services, that originally ran from September 5, 1993 to May 15, 1995, in Syndication and on TBS.
Overview
Edit
2 Stupid Dogs is about a big dog and a little dog, neither of whom, as the title explains, is very intelligent, and their everyday misadventures. The animation style is unusual for the time: a very flat, simplistic style similar to early Hanna-Barbera cartoons of the '60s and '70s, but with early '90s humor and sensibility. In addition, the Big Dog talks much less than the Little Dog does and most of the time, the Big Dog talks about food. It also did not have a series structure, similar to many humorous cartoons and sitcoms. The show did not follow a continuous storyline — what happens in one episode has little to no effect on another. 2 Stupid Dogs contained very brief sexual innuendos, as did other such cartoons of the time such as Rocko's Modern Life or Animaniacs.
Characters
Edit
Episodes
Edit
2 Stupid Dogs has a total of 26 episodes spread over 2 seasons that were produced from September 1993 to May 1995.