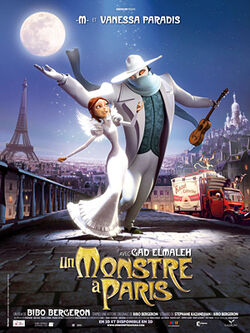 A Monster in Paris
(French: Un monstre à Paris) is a 2011 adventure film directed by Bibo Bergeron, and is based on a story he wrote. A Monster in Paris was released to theaters in France on October 12, 2011, with a run time of 90 minutes. The film takes place in Paris, the year 1910, and focus on a monsterous flea's love for a young singer.
Production
Edit
Distribution
Edit
Reception
Edit
Ad blocker interference detected!
Wikia is a free-to-use site that makes money from advertising. We have a modified experience for viewers using ad blockers

Wikia is not accessible if you've made further modifications. Remove the custom ad blocker rule(s) and the page will load as expected.