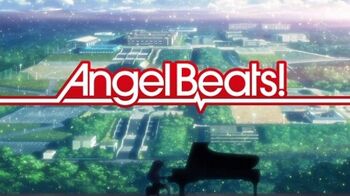 Angel Beats!
(Japanese: 
エンジェルビーツ!
Enjeru Bītsu!
) is a Japanese animated television series that aired thirteen episodes from April 3 to June 26, 2010. The show was based on the light novel Angel Beats! Track Zero that was witten by Jun Maeda, who also wrote the anime series. The series was produced by P.A. Works, and Aniplex while being directed by Seiji Kishi. The story takes place in the afterlife, and focuses on Otonashi, a boy who has lost his memories after dying. He is 'enrolled' in an afterlife school where he meats a mysterious girl named Yuri who leads an open war against the student council president, Angel, who possesses supernatural powers.
Conception
Edit
Production
Edit
Wiki Link
Edit
Ad blocker interference detected!
Wikia is a free-to-use site that makes money from advertising. We have a modified experience for viewers using ad blockers

Wikia is not accessible if you've made further modifications. Remove the custom ad blocker rule(s) and the page will load as expected.