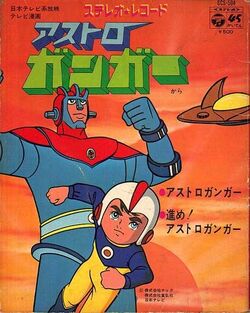 Astroganger (Japanese: アストロガンガー Astroganga) is a Super Robot Japanese animated series created by Knack Productions. It consisted of 26 episodes and originally aired from October 4, 1972 to March 28, 1973.
An alien woman named Maya crash-lands on Earth. Her homeworld was destroyed by the Blasters, a cruel alien race who steals the natural resources from other planets. She falls in love with a scientist and gives birth to a human boy named Kentaro. When the Blasters invade the Earth, Kentaro must defeat them by fighting with Astroganger, a robot made from living metal.
Production
Edit
References
Edit
Ad blocker interference detected!
Wikia is a free-to-use site that makes money from advertising. We have a modified experience for viewers using ad blockers

Wikia is not accessible if you've made further modifications. Remove the custom ad blocker rule(s) and the page will load as expected.