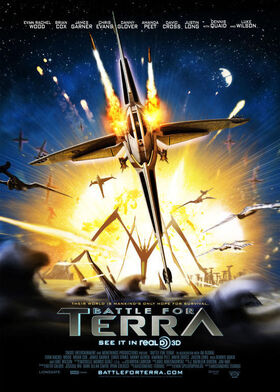 Battle for Terra
is a 2007 computer animated Science Fiction feature film by Aristomenis Tsirbas, who conceived it as a live action production with computer animated backgrounds. Battle for Terra primarily takes place on an alien world where a peaceful civilization faces destruction at the hands of Human colonization. It has a run time of 90 minutes, and was first shown at the Torronto Film Festival on August 8, 2007. It was released to theaters in the US on May 1, 2009.
Evan Rachel Wood as Mala
Brian Cox as General Hemmer
Luke Wilson as Jim Stanton
David Cross as Giddy
Justin Long as Senn
Amanda Peet as Maria Montez
Dennis Quaid as Roven
Chris Evans as Stewart Stanton
James Garner as Doron
Danny Glover as President Chen
Mark Hamill as Elder Orin
Tiffany Brevard as Singer Soloist
Danny Trejo as Elder Berum
Phil LaMarr as Fabric Merchant
Laraine Newman as Toy Merchant
Ron Perlman as Elder Vorin
Production
Edit
Distribution
Edit
Wiki Link
Edit
Ad blocker interference detected!
Wikia is a free-to-use site that makes money from advertising. We have a modified experience for viewers using ad blockers

Wikia is not accessible if you've made further modifications. Remove the custom ad blocker rule(s) and the page will load as expected.