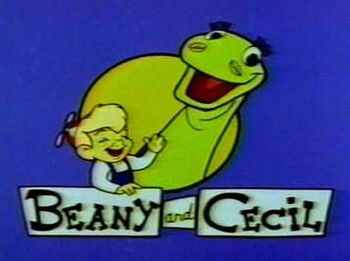 Beany and Cecil
aka
The Beany and Cecil Show
 aka
Beanie and Cecil
is an animated TV show based on the Time for Beany puppet show by Bob Clampett. It was one of the first three animated color TV shows shown on ABC (along with
The Flintstones
and
The Jetsons
). Though like the Flintstones it's first season was in Black and White. The series is notable for including some lampoon of political issues from the era along side references to popular cultural figures from the 60s which built an adult fan base. Like The Flintstones and the Jetsons it proved to be a series the whole family could enjoy.
The show follows the adventures of Cecil the Sea Snake and young boy Beany as they encounter ancient civilizations, find lost treasures, and are pursued by Dishonest John. Guiding them to these adventures is Captian Horatio Huffenpuff aboard the Leakin' Lina.
Beany and Cecil lasted 8 seasons of 26 episodes each of which have a run time of 30 minutes. Each episode consisting of six minute segments.
Characters

Edit
Main Cast
Edit
Beany
Cecil - Cecil is a giant green sea serpent whose full body is rarely seen (only in two episodes) most of the time it trails off screen. A reference to how his body was never fully seen in the puppet show (as he was a hand puppet). He's very loyal to Beany but not very clever. His low intellect is frequently taken advantage of by the bad people in the show and he often suffers quite a bit of abuse though in a slapstick cartoonish fashion.
Huffenpuff - Beany's uncle.
Crowy
Dishonest John
Minor Characters
Edit
Production
Edit
The characters themselves come from the Emmy Award Winning 'Time for Beany' puppet show which aired from 1949 until 1955. For some time after Bob Campett sought to revive the show and eventually in 1959 got to do an animated segment on 'Matty's Funday Funnies' a series of animated shorts hosted by Matty, the then mascot of the Mattel Company. These segments where so popular that it became apparent that the characters from that puppet show still had a strong following. Enough for Mattel to change the name of it's show to 'Matty's Funnies with Beany and Cecil' to capitalize on the still going strong popularity of the characters. Eventually they proved so popular that in 1962 they formally began to air as the 'Beany and Cecil' show much to Bob's great delight. Mattel proved a great springboard for getting an animated revival of the show and through toy tie-ins helped to support the show with Cecil appearing at times on Mattel advertising. The characters and those already used by Mattel proved to function well together only improving the relationship.
Broadcast History
Edit
ABC from January 6, 1962 until June 28, 1969.
Merchandise
Edit
Beany and Cecil Official Beanycopter by Mattel
Bob Campett's Beany and Cecil Cartoon Kit by Colorforms Toy Co.
Bob Campett's Beany Goes to Sea - a Little Golden Book
Lovable, Plush Cecil and his Disguise Kit by Mattel
Soft and Huggable Talking Cecil (The Seasick Sea Serpent) by Mattel
Talk to Cecil (The Seasick Sea Serpent) Talking Adventure Game by Mattel
Images here
Joel Hodgson, who created Mystery Science Theater 3000 cited Beany and Cecil as one of the inspirations behind the characters in his show stating that it was the first cartoon he remembers watching and providing similarities between Gypsy and Cecil, Crow and Crowy, etc. He encourages fans of his show to check out episodes of this series to find similarities. [source]
Source Citation
Edit
text