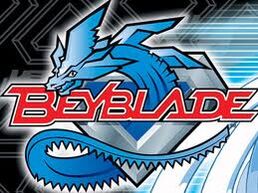 Beyblade
is an Anime based on the Beyblade Manga series, or as it is called in Japan, Explosive Shoot Beyblade. It was produced to promote the sale of Beyblade toys. It was directed by Toshifumi Kawase, and produced by Masao Maruyama, Jae-Young Kim, and Eun-Mi Lee. The series aired fifty one episodes from January 8, 2001 to December 24, 2001 on TV Tokyo.
A young boy named Tyson (Takao Kinomiya) enters the Japan Regional Beyblade Qualifying Tournament. Tyson encounters Ray Kon (Rei Kon) and Kai Hiwatari, and after defeating them, they organize a team, known as the Bladebreakers, along with Max Tate (Max Mizuhara). The Bladebreakers tour China to register for the championships, while confronting the White Tigers, Ray's former team. It is seen that Ray's old team holds a grudge against him for leaving them, but towards the end of the Chinese Tournament, Ray and his ex-teammates make amends, and the Bladebreakers win the tournament. After this, Tyson and his friends arrive in the United States to fight the All Starz, who are coached by Max's mother. After winning the American league, the team find themselves stranded in Europe. In order to be in the beyblade championship they must beat the Euro team.
Characters
Edit
Beybreakers
Related Series
Edit
The story continues with Beyblade V-Force.
Voice Cast
Edit
Production
Edit
Reception
Edit
Broadcast History
Edit
America
ABC Family
Jetix
Toon Disney
Australia
Cartoon Network
Network Ten
Japan
TV Tokyo (January 8, 2001 to December 24, 2001)
Wiki Link
Edit
Ad blocker interference detected!
Wikia is a free-to-use site that makes money from advertising. We have a modified experience for viewers using ad blockers

Wikia is not accessible if you've made further modifications. Remove the custom ad blocker rule(s) and the page will load as expected.