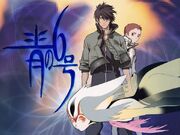 Blue Submarine No.6
is an OAV Anime adaptation of the Japanese Manga 青の6号 Ao no Roku-gō?, literally "Blue No.6". The OAV was originally licence by
Brandai Entertainment
, and was animated by Gonzo, a Japanese studio. The series was released from October 25, 1998 to March 25, 2000. It began airing on Cartoon Network's Toonami Block from November 6th to November 9th in the year 2000. The OAV ran four episodes in total, and makes use of both Traditional, and Computer animation.
The Story
Edit
The story sets in the distant future, when the Earth's oceans have risen and flooded most of the sea-lying land on Earth. The rogue scientist Zorndyke caused the flooding, which killed countless individuals, and most of humanity's remaining cities have been attacked or destroyed by Zorndyke's army of half-animal "hybrids". The remaining humans begin to wage war against Zorndyke's seagoing creations for simple survival. Humanity's best hope for a resolution to the conflict lies with its submarine forces, among which is the focus of the story, Blue Submarine #6. It is revealed that Zorndyke is attempting to decisively end the conflict in the favor of his hybrid children by artificially inducing a polar switch using geothermal energy at the South Pole.
Characters
Edit
Main
Hayami Tetsu - 

Main Male protagonist, is disillusioned with the war.

Mayumi Kino - Main Female protagonist, fully for the cause.

Mutio - Female mer being who cares for the safty of human life, mostly that of Hayami.
Antagonist
Zorndyke - Disillusioned with Humanity, though genetic research has developed a god complex.
"BLUES"  October 25, 1998
"PILOTS"  February 25, 1999
"HEARTS"  August 25, 1999
"MINASOKO"  March 25, 2000
Reception
Edit
Broadcast History
Edit
Cartoon Network (November 6th to November 9th of the year 2000)
Ad blocker interference detected!
Wikia is a free-to-use site that makes money from advertising. We have a modified experience for viewers using ad blockers

Wikia is not accessible if you've made further modifications. Remove the custom ad blocker rule(s) and the page will load as expected.