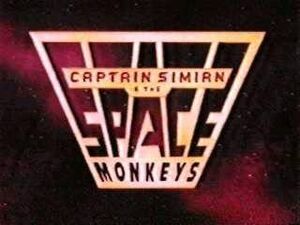 Captain Simian & the Space Monkeys is an American animated TV series of the Science Fiction genre. The show consists of twenty-six 30 minute episodes that originally aired from the 7th of September 1996 till the 21st of June 1997.
Synopsis
Edit
Some time in the 1960s a Chimp astronaut's craft is flung into the void of space and recovered by an advanced alien race hoping to fulfill a prophecy concerning Earth's inhabitants obtaining space travel by granting the astronaut vast knowledge to aid in a quest against a galactic threat. This grants the chimp sentience and an enhanced form. The aliens allow him to select a team of other primates from his home world to aid him in his quest and thus begins CAPTAIN SIMIAN & the SPACE MONKEYS!
Episodes
Edit
--
--
--
--
--
--
--
--
--
--
--
--
--
--
--
--
--
--
--
--
--
--
--
Production
Edit
Reception
Edit
Ad blocker interference detected!
Wikia is a free-to-use site that makes money from advertising. We have a modified experience for viewers using ad blockers

Wikia is not accessible if you've made further modifications. Remove the custom ad blocker rule(s) and the page will load as expected.