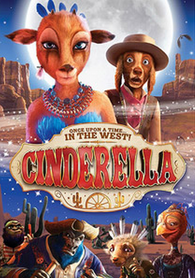 Cinderella in the Far West
(French: 
Cendrillon au Far West
) is a 2012 animated picture directed by Pascal Herold. Essentually it tells an action packed version of the fairy tale, Cinderella, in the form of a western. The film was released to theaters on July 25, 2012. It was produced by Herold & Family, along with uFilm.
French Cast
Edit
Alexandra Lamy  : Cinderella
Antoine de Caunes  : Prince Vladimir
Yolande Moreau  : Felicity
Michel Boujenah  : Little Smoke
Isabelle Nanty  : La Grande Duchesse
Philippe Peythieu  : Barbazul, Sheriff, Elegant
Véronique Augereau  : Harmony, Earthwatch crappy
Audrey Lamy  : Melody
Hervé Lassince  : Dark Lopez, the Bobs
Production
Edit
Reception
Edit