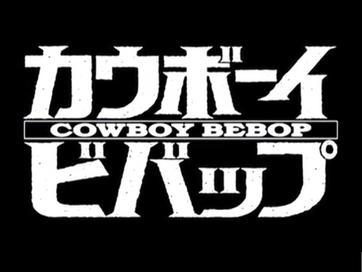 Cowboy Bebop is a Japanese animated TV series developed by Sunrise. The series follows adventures, misadventures, and tragedies of the bounty hunting 'cowboy' crew of the starship Bebop in the year 2071. The show first aired on April 3, 1998 by way of Tokyo TV before the series was aborted. It was picked up by WOWOW on October 24 and would run it's entirety till April 24, 1999.
Overview
Edit
Episodes
Edit
Characters
Edit
Production
Edit
The production team was led by director Shinichiro Watanabe, and comprised of screenwriter Keiko Nobumoto, character designer Toshihiro Kawamoto, mechanical designer Kimitoshi Yamane, and composer Yoko Kanno.
Broadcast History
Edit
Cowboy Bebop originally aired on Tokyo TV on April 3, 1998 however on June 26 the series was aborted. WoWOW picked up the show on October 24 and aired the full series till April 24, 1999. In 2001, Cowboy Bebop became the first anime title to be broadcast onCartoon Network's Adult Swim in the United States. Since then, the series has aired continuously in rotation due to its success. From May 26, 2012 to October 19, 2013 Cowboy Bebop aired on Adult Swim's Toonami block. The series returned on July 26, 2014. In December 2012, Anime Limited announced via Facebook and Twitter that they had acquired the home video license for the United Kingdom.
Reception
Edit
Ad blocker interference detected!
Wikia is a free-to-use site that makes money from advertising. We have a modified experience for viewers using ad blockers

Wikia is not accessible if you've made further modifications. Remove the custom ad blocker rule(s) and the page will load as expected.