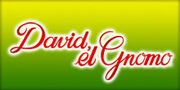 David, the Gnome
(Spanish: David el Gnomo) is a TV series that follows the fantastic adventures of David and his wife Lisa traveling around the world to save animals and defeat trolls. The series aired two season from 1985 till 1988.
Characters
Edit
Related Series
Edit
David, the Gnome has a number of spin off series;
Wisdom of the Gnomes
The Great Adventures of the Gnomes
The Gnomes in the Snow
The Fantastic Adventures of the Gnomes
The New World of the Gnomes
The World of David the Gnome
Broadcast History
Edit
Ad blocker interference detected!
Wikia is a free-to-use site that makes money from advertising. We have a modified experience for viewers using ad blockers

Wikia is not accessible if you've made further modifications. Remove the custom ad blocker rule(s) and the page will load as expected.