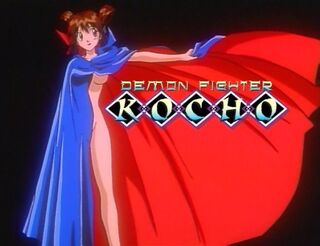 Demon Fighter Kocho
(厄災仔寵 Yakusai Kochō) is a 1997 Original Video Animation produced by Nippon Columbia, and directed by Toru Yoshida. It's based on Nonki Miyasu's Manga of the same name. The short was liscensed to Media Busters for release in the US. The entire animation has a run time of 35 minutes.
Production
Edit
Reception
Edit
The short was to be the first episode of an Anime series, however it didn't seem to catch ground. Chris Beveridge of Mania.com noted that the show would most likely have appealed to those who did not want to watch hentai (perverted) anime, but still desired a high level of fan service.
Ad blocker interference detected!
Wikia is a free-to-use site that makes money from advertising. We have a modified experience for viewers using ad blockers

Wikia is not accessible if you've made further modifications. Remove the custom ad blocker rule(s) and the page will load as expected.