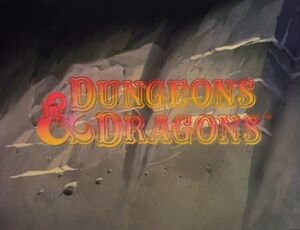 Dungeons & Dragons
is a 1980s animated adventure series based on TSR's Dungeons & Dragon's table top RPG. The series was a co-production of Marvel Productions, and TSR. It ran three seasosn from September 17, 1983 to December 7,1985 airing 28 episodes.
Six teenagers go on a Dungeons & Dragons theme ride only to be swept by an interdimensional portal to the world of Dungeons & Dragons. Under the guidance of the Dungeon Master they work to find a way out, all the while learning more about themselves, and each other.
Main Characters
Edit
Bobby, the Barbarian -
Diana, the Acrobat -
Dungeon Master -
Eric, the Cavalier -
Hank, the Ranger -
Presto, the Magician -
Sheilia, the Theif -
Production
Edit
Ad blocker interference detected!
Wikia is a free-to-use site that makes money from advertising. We have a modified experience for viewers using ad blockers

Wikia is not accessible if you've made further modifications. Remove the custom ad blocker rule(s) and the page will load as expected.