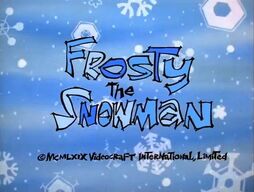 Frosty the Snowman is an American holiday special based on a song of the same title. It's the first special created by Arthur Rankin,Jr and Jules Bass to use traditional animation, as opposed to stop motion animation. The two wanted to give the special the feel of a Christmas card. The animation it's self was produced by Mushi Production in Japan, with then Osamu Dezaki on the crew. The special first aired on CBS in the year 1969, on December seventh.
(plot summery here)
Jackie Vernon as Frosty the Snowman
Jimmy Durante as Narrator
June Foray as Karen (original airing), schoolteacher.
Billy De Wolfe as Professor Hinkle
Paul Frees as the traffic cop, stationmaster, and Santa Claus
Ad blocker interference detected!
Wikia is a free-to-use site that makes money from advertising. We have a modified experience for viewers using ad blockers

Wikia is not accessible if you've made further modifications. Remove the custom ad blocker rule(s) and the page will load as expected.