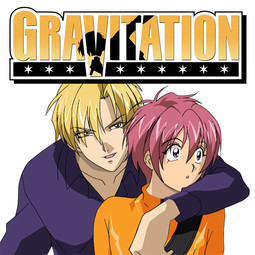 Gravitation
is a boy's love anime based on Maki Murakami's manga that shares the same name. The 13 episode series ran from October 4, 2000 to January 1, 2001 on WOWOW. The Anime was produced by Studio Deen, and Licenced by Madman Entertainment (Australia), which also published the Manga.
The story follows the attempts of Shuichi Shindo and his band, Bad Luck, to become Japan's next musical sensation and his struggles to capture Yuki's heart. Fitting for the subject, the anime features a large amount of music, a diverse set of characters, plenty of comedy, romance, and touches of drama and violence.
Characters
Edit
Production
Edit
Reception
Edit
Broadcast History
Edit
Anime Network
Anime Selects
ImaginAnime
WOWOW (October 4, 2000 to January 1, 2001)
Ad blocker interference detected!
Wikia is a free-to-use site that makes money from advertising. We have a modified experience for viewers using ad blockers

Wikia is not accessible if you've made further modifications. Remove the custom ad blocker rule(s) and the page will load as expected.