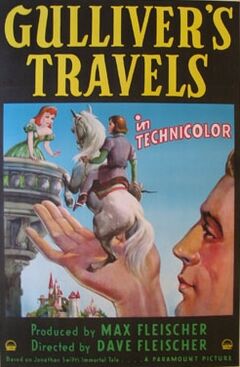 Gulliver's Travels is a 1939 animated feature film produced by Max Fleischer of Fleischer studios. Gulliver's Travels is the 2nd Cel-Animated feature film ever released, and the first created by a production company other then Walt Disney Productions. The film is loosely based on the Lilliputian adventures of Gulliver from Jonathan Swift's 18th century novel. Gulliver's Travel's was released on December 23, 1939 by Paramount Pictures.
Write the first section of your article here.
Viewing Link
Edit
Gulliver's Travels (Full, English)
Write the second section of your article here.