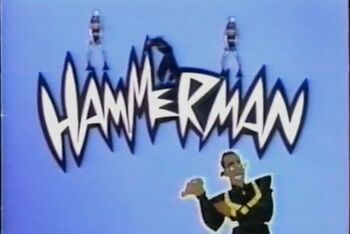 Hammerman is an American cartoon hosted by the rapper MC Hammer and produced by DiC Entertainment. It ran for one season of thirteen 23 minute episodes which aired in the year 1991.
Synopsis
Edit
Youth Center worker Stanley Burrell (MC Hammer's real name) is gifted with two magical dancing shoes by an elderly man named Gramps who was in his younger years was the superhero Soulman. This shoes give Stanley the power to become Hammerman, a superhero who goes on to handle various social issues, deliver life lessons, and combat an array of villains using his musical powers with the occasional back up by two unnamed vocalist likely connected to the shoes (as a pair of shoes consists of two).
Episodes
Edit
Production
Edit
The show was produced by DiC Entertainment and Bust It Productions, Inc.
Broadcast History
Edit
Hammerman originally aired on ABC in the year 1991 from the 7th of September to the 7th of December.
Ad blocker interference detected!
Wikia is a free-to-use site that makes money from advertising. We have a modified experience for viewers using ad blockers

Wikia is not accessible if you've made further modifications. Remove the custom ad blocker rule(s) and the page will load as expected.