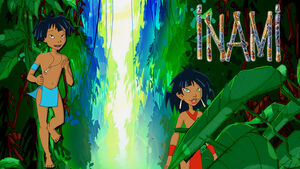 Inami
(French: Inami, le Bellacaïbos de la forêt) is an animated series dealing with enviromental issues, cultural intrusion, and growing up. The series was produced by Ellipse Animation, and created by . The series ran for one season of 26 episodes.
This series features the adventures of an eleven year old South American Inami, of the Bellacaïbos Amazonian tribe. It addresses a varriety of issues, that are both enviromental, and cultural in nature.
French Titles
J'ai fait un rêve
Le rideau sombre
Le dauphin rose
La quête du sel
Le venin de la discorde
Le secret
Les quatre éléments
Grand Frère
Les hommes flammes
Le sanctuaire interdit
L'épreuve de l'écaille
Le prix de la liberté
Le chaman noir
La montagne qui chante
Un étrange village
Le diamant noir
Les douze dents du requin
Une tatoune de toutes les couleurs
Le double lien
La famille tatou
Les yeux du grand tatou
Le puits des songes
Une vie pour une vie
L'étrange message des Hékuras
L'épreuve de la paix
L'île des mystères
Production
Edit
Distribution
Edit
Broadcast History
Edit
The series premeired on TF1 on August 27, 2008
Ad blocker interference detected!
Wikia is a free-to-use site that makes money from advertising. We have a modified experience for viewers using ad blockers

Wikia is not accessible if you've made further modifications. Remove the custom ad blocker rule(s) and the page will load as expected.