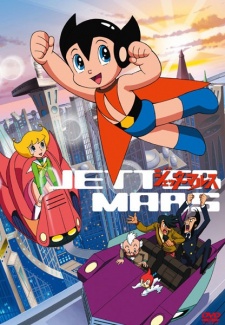 Jetter Mars (ジェッターマルス Jettā Marusu) is an anime series directed by Rintaro and written by Osamu Tezuka. The storyline is set in the year 2015. Two scientist, Dr. Kawashimo and Dr. Yamanoue, have created a robot with advanced capabilities. Dr. Kawashimo created his miraculous artificial intelligence, making him almost human, while Dr. Yamanoue created the robot's body, endowing him with astoundingly powerful weaponry. The series started airing on Fuji TV on the 3rd of February in the year 1977 and ended it's run on the 15th of September the same year.
Episodes
Edit
The Jetter Mars anime series consists of 27 episodes.
Production
Edit
The series was originally planned by Tezuka as a full-color remake of the original anime adaptation of his popular manga series Astro Boy, unfavorable circumstances during the pre-production phase of the project led him to abandon it temporarily and create Jetter Mars instead.
Ad blocker interference detected!
Wikia is a free-to-use site that makes money from advertising. We have a modified experience for viewers using ad blockers

Wikia is not accessible if you've made further modifications. Remove the custom ad blocker rule(s) and the page will load as expected.