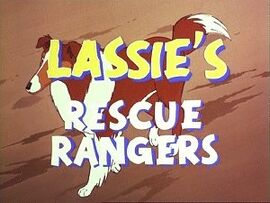 Lassie's Rescue Rangers
is a TV series produced by Filmation featuring Lassie, a popular live action canine hero of the 1940s. The series ran from September 15, 1973 - December 22, 1973, airing 15 episodes.
In the series, Lassie the collie dog lives near Thunder Mountain with the Turner family. Ranger Ben Turner works with wife Laura and children Susan, Jackie, and Ben Jr. as The Forest Force, a ranger-rescue team that protects Thunder Mountain National Park. Lassie is the leader of The Rescue Rangers, a group of wild animals living in the park, working alongside the Turners to help protect the environment and keep it safe for visitors.
The Rescue Rangers were eight animals including Groucho the owl, Toothless the mountain lion, Musty the skunk, and Robbie the raccoon. Also helping the Forest Force was Gene Fox, a Native American, who was Ben Jr.'s, Jackie's and Susan's friend.
Characters
Edit
The Forest Force
Ben Jr.
Ben Turner - Park Ranger
Susan
Jackie
The Rescue Rangers
Groucho
Lassie
Musty
Robbie
Toothless
No. |  Name | Original Air Date
0 "Lassie and the Spirit of Thunder Mountain" November 11, 1972 -Pilot Episode-
1 "The Animals Are Missing" September 15, 1973
2 "Mystic Monster" September 22, 1973
3 "Lassie's Special Assignment" September 29, 1973
4 "The Imposters" October 6, 1973
5 "Deadly Cargo" October 13, 1973
6 "Grizzly" October 20, 1973
7 "Deepsea Disaster" October 27, 1973
8 "Black Out" November 3, 1973
9 "Arctic Adventure" November 10, 1973
10 "The Sunken Galleon" November 17, 1973
11 "Goldmine" November 24, 1973
12 "Rodeo" December 1, 1973
13 "Hullabaloo in Hollywood" December 8, 1973
14 "Tidal Wave" December 15, 1973
15 "Lost" December 22, 1973
Broadcast History
Edit
The series premiered on ABC on September 15, 1973.
Ad blocker interference detected!
Wikia is a free-to-use site that makes money from advertising. We have a modified experience for viewers using ad blockers

Wikia is not accessible if you've made further modifications. Remove the custom ad blocker rule(s) and the page will load as expected.