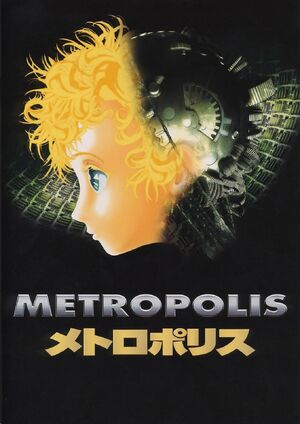 Metropolis is a 2001 animated feature directed by Rintaro, and based on the manga by Osamu Tezuka which was it's self inspired by the 1927 silent classic of the same name. A loose adaptation this story focuses on the segregated use of robotic labor by a futuristic city, and how the use of such labor has created a disgruntled populous; and an unhealthy wealth gap.
Humans and robots coexist in the futuristic city of Metropolis, although robots are discriminated against and segregated to the city's lower levels. A lot of Metropolis' human population are unemployed and deprived, and many people blame the robots for taking their jobs.
Duke Red, the unofficial ruler of Metropolis, has overseen the construction of a massive skyscraper called the Ziggurat, which he claims will allow mankind to extend its power across the planet. A wayward robot disrupts the Ziggurat's opening ceremony, only to be shot down by Rock, Duke Red's adopted son and the head of the Marduk Party, a vigilante group whose aim is to promote anti-robot sentiments. Private detective Shunsaku Ban and his nephew Kenichi travel to Metropolis to arrest Dr. Laughton, a mad scientist wanted for organ trafficking. Unknown to Shunsaku, Duke Red has hired Laughton to build an advanced robot modeled and named after Red's deceased daughter Tima. Red intends for Tima to function as a central control unit for a powerful secret weapon hidden in the Ziggurat. However, Rock learns of Tima's existence and, not wanting a robot to overshadow Red, shoots Laughton and sets fire to his laboratory.
Shunsaku comes across the burning laboratory and discovers the dying Laughton, who gives Shunsaku his notebook. Meanwhile, Kenichi finds the activated Tima. The two fall into the sewers and are separated from Shunsaku. While Shunsaku searches for his nephew, Kenichi and Tima search for a way back the street level. They grow close as Kenichi teaches Tima how to speak. Neither are aware she is a robot. The two are hunted relentlessly by Rock and his subordinates, and encounter a group of unemployed human laborers who stage a revolution against Red.
The president and the mayor of Metropolis try to use the revolution to overthrow Red and gain control of Metropolis, but they are assassinated by the president's top military commander, General Kusai Skunk, who has sided with Red. The duke then imposes martial law to suppress the revolution. In the aftermath of the failed revolt, Kenichi reunites with Shunsaku, only to be wounded by Rock, who reveals Tima to be a robot. Rock, however, is disowned by Red and stripped of his command of the Marduks for attempting to kill Tima. Duke Red takes Tima away to the Ziggurat.
Still determined to dispose of Tima and regain his father's affection, Rock kidnaps and deactivates Tima, who is now confused about her identity. Shunsaku rescues her and, after following instructions from Laughton's notebook, reactivates Tima. The two discover Kenichi is being held in the Ziggurat, but are then captured by Duke Red and the Marduks on their way to save him. Brought to the top of the Ziggurat, Tima confronts Duke Red about whether she is a human or robot. Duke Red tells her she is a "superhuman" and destined to rule the world from her throne. Disguised as a maid, Rock then shoots Tima, exposing her circuitry.
The sudden shock of realizing she is a robot causes Tima to go insane. She proceeds to sit on the throne, where she orders a biological and nuclear attack on humanity. While the others flee, Kenichi tries to reason with Tima. Robots drawn by Tima's command attack Duke Red. Not wanting his father to die at the hands of "filthy robots", Rock kills himself and Duke Red in a massive explosion. As the Ziggurat starts to collapse around them, Kenichi finally reaches Tima and separates her from the throne. Seemingly lost, Tima tries to kill Kenichi, but falls off the tower in the struggle. Out of love for her, Kenichi tries to save Tima and pull her up using one of the cables still grafted to her. As the cable begins to fray, Tima remembers the time Kenichi taught her language and asks Kenichi, "Who am I?", before she loses her grip and falls to her presumed death. The Ziggurat collapses, destroying a large part of Metropolis.
The next morning, Kenichi searches the ruins and discovers a group of robots have salvaged some of Tima's parts in an effort to rebuild her. While Shunsaku and many other human survivors are evacuated, Kenichi chooses to remain behind and rebuild the city. Kenichi wants to create a place where humans and robots can coexist peacefully. He eventually repairs Tima and opens a robot workshop.
Viewing Links
Edit
Ad blocker interference detected!
Wikia is a free-to-use site that makes money from advertising. We have a modified experience for viewers using ad blockers

Wikia is not accessible if you've made further modifications. Remove the custom ad blocker rule(s) and the page will load as expected.