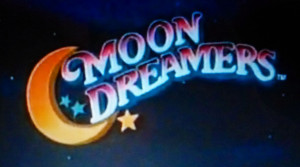 Moon Dreamers (also known as Moondreamers or MoonDreamers) is an animated series that originally aired from September 25, 1986 till January 1987. Produced by Hasbro as part of the My Little Pony n' Friends line up (in which My Little Pony would air the first 15 minutes followed by other Hasbro productions which included Moon Dreamers. All of which where meant to promote one of the companies toy lines). It is not known which station originally aired the MoonDreamers, though it did feature on the CBN Family Channel from 1989 to 1990.
The Moon Dreamers are a group of celestial people who create and deliver pleasant dreams to Earth children. Their main enemy is the evil Queen Scowlene, who attempts to keep everyone awake at night with her nightmare crystals.
Viewing Links
Edit
Links for viewing the Moondreamers series.
Ad blocker interference detected!
Wikia is a free-to-use site that makes money from advertising. We have a modified experience for viewers using ad blockers

Wikia is not accessible if you've made further modifications. Remove the custom ad blocker rule(s) and the page will load as expected.