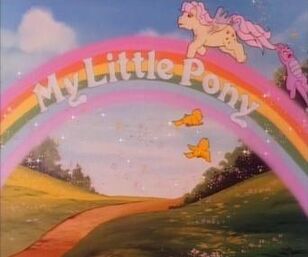 My Little Pony
is a 1980s American TV show based on the My Little Pony toys by Hasbro. It was produced by Marvel Productions, and Sunbow Productions. The show featured as the first segment of a program called
My Little Pony n' Friends
. The series originally aired 65 episodes over the course of 2 seasons in Syndication from April 14, 1984 to September 23, 1987.
Ponyland is a mystical land, home to all kinds of magical creatures. The Little Ponies make their home in Paradise Estate, living a peaceful life filled with song and games. However, not all of the creatures of Ponyland are so peaceful, and the Ponies often find themselves having to fight for survival against witches, trolls, goblins and all the other beasts that would love to see the Little Ponies destroyed, enslaved or otherwise harmed.
Characters
Edit
Major Characters
Danny Williams - Megan's younger brother, and the older brother of Molly.
Megan Williams- A human girl that Firefly brought to Paradise Estate in the belief that she'd be able to use her human attributes to aid the ponies in their struggle.
Molly Williams - Megan's younger sister.
Spike - A small dragon.
Minor Characters
The Ponies
Ember - A young foal.
Firefly - A pink peguses with a desire to brag, and show off.
List