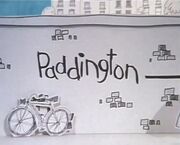 Paddington
is a TV series based on the Paddington Bear book series by Michael Bond, and was produced by FilmFair. It is one of the few programs to combine puppetry with cartoon animation. Paddington himself being a puppet, while other characters are traditionally animated. The Series originally aired on BBC and CBBC from January 5, 1975 to July 5, 1986. The rights to the series is currently owned by DHX Media of Canada.
Ad blocker interference detected!
Wikia is a free-to-use site that makes money from advertising. We have a modified experience for viewers using ad blockers

Wikia is not accessible if you've made further modifications. Remove the custom ad blocker rule(s) and the page will load as expected.