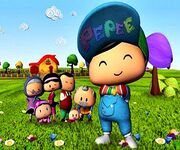 Pepee
is an educational TV series produced by Dusyeri. The series is targeted towards a pre-school audiance. The series is still being broadcasted on the TRT Children Channel. The series was published on June 6, 2008.
Characters
Edit
Pepee : A boy
Şila : Pepee's cousin
Zulu : A ping giraffe
Maymuş : A Monkey
Bebe : Pepee's younger sister.
Production
Edit
Distribution
Edit
Broadcast History
Edit
Ad blocker interference detected!
Wikia is a free-to-use site that makes money from advertising. We have a modified experience for viewers using ad blockers

Wikia is not accessible if you've made further modifications. Remove the custom ad blocker rule(s) and the page will load as expected.