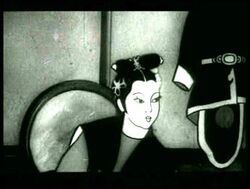 Princess Iron Fan is the first Chinese Animated Film. It was created in Shanghai during WWII (in the year 1941) with much difficutly. The film is based on an episode of the novel, Journey to the West. The film was directed by Wan Guchan, and his brother, Wan Laiming.
Four travelers needing to pass through a fiery mountain seek the magical fan of a princess, but she does not wish to part with it.
Production
Edit
Reception
Edit
Viewing Link
Edit
Princess Iron Fan (Chinese)
Source Links
Edit
Link to sources on the material for citation purposes.
Ad blocker interference detected!
Wikia is a free-to-use site that makes money from advertising. We have a modified experience for viewers using ad blockers

Wikia is not accessible if you've made further modifications. Remove the custom ad blocker rule(s) and the page will load as expected.