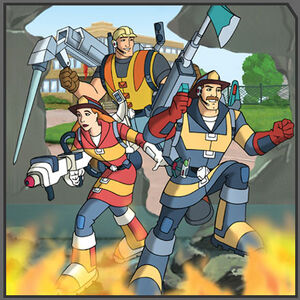 Rescue Heroes is a Canadian animated TV series that ran 40 episodes during it's run. The series was produced by CBS, and animated by Nelvana Limited and was based on Fisher-Price's Rescue Heroes toy line. After the series had it's run, the episodes where included as VHS to come with certain Rescue Heroes figures. Often two figures, and one VHS that held both parts of an episode.
Overview
Edit
"In a world where threats and disasters are always possible, there's a team that is always ready to respond to times of need, the Rescue Heroes. This elite rescue squad combine the skills of firefighting, police work and other special talents to answer the call for help around the world"
Cast & Characters
Edit
Episodes
Edit
3 seasons of 40 episodes in total.
Season 1
Edit
Season 2
Edit
---
---
---
---
---
---
---
---
High Anxiety | Episode 19a) | Wendy's competitive nature jeopardizes a rescue mission involving an explosion on one of the high floors of two towers.
---
---
---
---
---
---
---
---
Season 3
Edit
Production
Edit
Animation was handled by Nelvana Limited, a Canadian animation studio.
Reception
Edit
Rescue Heroes TV series enjoyed mostly positive reviews. Commonsense Media wrote, "Rescue Heroes does a lot of things right, from casting true-to-life heroes like firefighters and police officers in place of superpower-charged men of steel to keeping the stories' content relatable to the kids who are watching."
Ad blocker interference detected!
Wikia is a free-to-use site that makes money from advertising. We have a modified experience for viewers using ad blockers

Wikia is not accessible if you've made further modifications. Remove the custom ad blocker rule(s) and the page will load as expected.