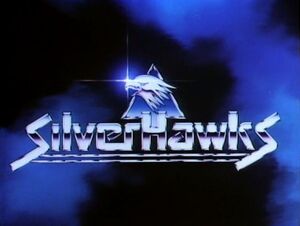 SilverHawks is a 1986 animated TV series distributed by Lorimar-Telepictures and produced by Rankin/Bass Productions though the animation it's self was done by the Pacific Animation Corporation, a Japanese company. In the series a band of bionic space cops fight against the mob forces of Mon*Star, and his henchies. Their cybernetics came from the need to survive warp speeds [?]. The series ran 65 episodes of 23 minutes length each from September 8, 1986 to December 5, 1986 on First-run syndication.
Characters
Edit
Main SilverHawks
Edit
Commander Stargazer with Sly-Bird
Quicksilver with Tally-Hawk
Bluegrass with Sideman
Steelheart with Rayzor
Steelwill with Stronghold
The Copper Kidd with Mayday
Episodes (with viewing links)
Edit
Merchandise
Edit
A comic series by Marvel
Wiki Link
Edit
Ad blocker interference detected!
Wikia is a free-to-use site that makes money from advertising. We have a modified experience for viewers using ad blockers

Wikia is not accessible if you've made further modifications. Remove the custom ad blocker rule(s) and the page will load as expected.