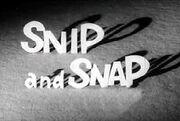 Snip and Snap is a stop motion TV series of 1960 that was directed by paper sculpter Thok Søndergaard (Thoki Yenn), and John Halas. The show features the exploits of paper dog Snip, and a pair of scissors (Snap). The show was produced by Halas & Batchelor, and aired 26 episodes on Sveriges Radio TV.
Characters
Edit
Snap
Snip
Production
Edit
Reception
Edit
Broadcast History
Edit
Sverges Radio TV (1960)
Ad blocker interference detected!
Wikia is a free-to-use site that makes money from advertising. We have a modified experience for viewers using ad blockers

Wikia is not accessible if you've made further modifications. Remove the custom ad blocker rule(s) and the page will load as expected.