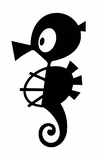 Tatsunoko Production Co., Ltd.
(株式会社タツノコプロ Kabushiki gaisha Tatsunoko Puro?), previously known as
Kabushiki gaisha Tatsunoko Purodakushon
(株式会社竜の子プロダクション?), often shortened to
Tatsunoko Pro
(竜の子プロ or タツノコプロ Tatsunoko Puro?), is a Japanese animation company. Founded in October 1962 by anime pioneer Tatsuo Yoshida along with his brothers Kenji and Toyoharu (or by the pen name "Ippei Kuri").
Animated Productions
Edit
List of all animated productions of the Tasunoko Production Co., Ltd.
Anime Series
Edit
Ad blocker interference detected!
Wikia is a free-to-use site that makes money from advertising. We have a modified experience for viewers using ad blockers

Wikia is not accessible if you've made further modifications. Remove the custom ad blocker rule(s) and the page will load as expected.