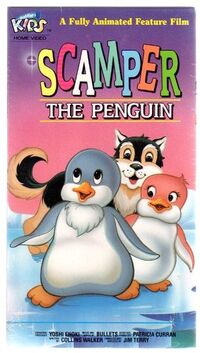 The Adventures of Scamper the Penguin
 (Russian: Приключе́ния пингвинёнка Лоло́, 
Priklyucheniya pingvinyonka Lolo,
The Adventures of Small Penguin Lolo)(Japanese:Chiisana Pengin: Roro no Bōken (小さなペンギン ロロの冒険?, The Adventures of Lolo the Penguin) is a Japanese-Soviet feature film originally released by Enoki Films in Russia on January 1, 1986. The film was latter re-released by Just for Kids, and Feature Films for Families. The film was originally released as a three part serial titled.
Production
Edit
The original film was created by Takeo Nisiguti who had sought a co-production with Russian animation. He contacted them in 1980, and the film took several years to develop. During this time, Russian animation received film equipment commonly used in Japan. It is the first time Russian and Japanese production had collaborated to make an animated film.
It was then animated in 1986 by Soyuzmultfilm. It was co-produced by Soyuzmultflm, and Lifework Corporation with music by Masahito Maruyama. It was sponsored by Aist Corporation and Sovinfilm. English versions of Lolo were distributed by Force Entertainment. The "Scamper" version was released by Enoki Films USA. A French dub was produced by Agovision and distributed by Arkeion Films.
Reception
Edit
Viewing Link
Edit