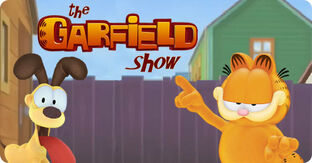 The Garfield Show (French: Garfield et Cie lit. Garfield the Cat) is a French-American CGI series produced by Jim Davis, the creator of the Garfield Comic strips, and co-written by Evanier. The series premiered in France on France 3 on December 22, 2008.
Overview
Edit
Broadcast History
Edit
Garfield the Show first aired on France 3 on December 22, 2008 with English language episodes first airing on Boomerang UK on May 5, 2009. It would reach the US via Cartoon Network on November the 2nd of the same year. The show first aired in Canada via YTV; yet would experience a hiatus that would last from May 30, 2011 to September 6. However it would again be taken off the air on December 23.
Ad blocker interference detected!
Wikia is a free-to-use site that makes money from advertising. We have a modified experience for viewers using ad blockers

Wikia is not accessible if you've made further modifications. Remove the custom ad blocker rule(s) and the page will load as expected.