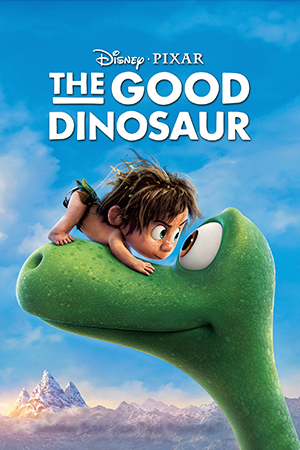 The Good Dinosaur is an animated dramatic adventure produced by the Pixar Animation Studio. It premiered on the 10th of Number in the year 2015 in Paris, France and had it's first US theatrical release on the 25th of the same month and year.
Production
Edit
With a budget of 175 million to 200 million US Dollars this has been the lowest budget of Pixar productions.
Reception
Edit
The film managed to earn  $332.2 million world wide during it's theatrical release but fared better in home video releases.
Merchandise
Edit
A figure of Spot and Power Discs of Arlo, Ramsey, Nash, and Butch have been released for Disney Infinity 3.0.
Notes on the Setting
Edit
The Good Dinosaur is, as the trailers state, set in an alternate universe where 65 million years ago the asteroid that struck the Earth and plummeted our world into an Ice Age passed over the Earth instead; allowing reptiles such as the Dinosaurs to avoid mass extinction. The movie takes place 65 million years after the asteroid passed over the Earth.
Ad blocker interference detected!
Wikia is a free-to-use site that makes money from advertising. We have a modified experience for viewers using ad blockers

Wikia is not accessible if you've made further modifications. Remove the custom ad blocker rule(s) and the page will load as expected.