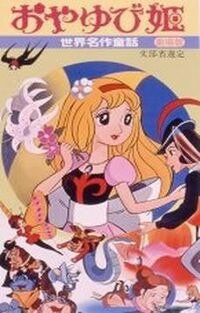 Thumbelina
(Japanese: Sekai Meisaku Douwa - Oyayubi Hime) is a 1978 film based on Hans Christian Anderson's Fairy Tale, Thumbelina. The film was directed by Yugo Serikawa, and produced by Toei Animation. The screenplay, based on the fairy tale, was written by Ikuko Oyabu. The film has a run time of 65 minutes.
Production
Edit
Distribution
Edit
Viewing Link
Edit
Ad blocker interference detected!
Wikia is a free-to-use site that makes money from advertising. We have a modified experience for viewers using ad blockers

Wikia is not accessible if you've made further modifications. Remove the custom ad blocker rule(s) and the page will load as expected.