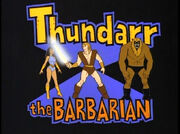 Thundarr the Barbarian
is a 1980s Post-Apocalyptic Saturday Morning Cartoon that combines elements of Science Fiction, and Fantasy. It was produced by Ruby-Spears Production, and ran two seasons from 1980 to 1982, totalling in 21 episodes.
"In the year 1994, from outer space comes a runaway planet hurtling between the Earth, and the Moon, unleashing cosmic destruction. Mans civilization is caste in ruin. 2000 years later, the Earth is reborn. A strange new world rises from the old, a world of savagry, super science, and sorcery. But one man bursts his bonds to fight for justice, with his companions Ookla the Mok, and Princess Ariel. He pits his strength, his courage, and his fabulous Sun-Sword against the forces of Evil, he is, Thundarr, the Barbarian!" - 1980 intro
Main Characters
Edit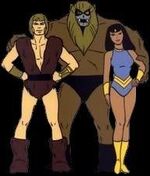 Ookla the Mok
Princess Ariel
Thundarr the Barbarian
Secrets of the Black Pearl
Harvest of Doom
Voice Cast
Edit
Production
Edit
Distribution
Edit
Wiki Link
Edit
Ad blocker interference detected!
Wikia is a free-to-use site that makes money from advertising. We have a modified experience for viewers using ad blockers

Wikia is not accessible if you've made further modifications. Remove the custom ad blocker rule(s) and the page will load as expected.