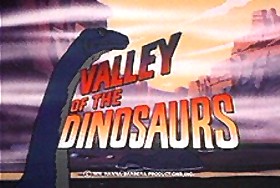 Valley of the Dinosaurs
is an American animated Saturday-morning TV show produced by Hanna-Barbera as educational programming concerning dinosaurs, and the life of early man. It aired on CBS from September 7, 1974 to December 21 of the same year.
Opening Narrative
Edit
"Deep in the heart of the Amazon, the Butler family was exploring an uncharted river canyon when suddenly caught up in a violent whirlpool, they were propelled though an underground cavern, and flung into a hostile world of giant prehistoric creatures. A world that time forgot, now befriended by a family of cave dwellers, each passing day is a lesson in survival for the Butlers in the VALLEY OF THE DINOSAURS!"
Episodes and Viewing Links
Edit
Characters
Edit
Gara - Gorok's wife, she has many talents in the area of healing, and knows much about the flora of the valley.
Gorok - Head of the cave family who oversaw the rescue of the Butlers.
Greg Butler - Katie's younger brother, he's not as cautious as his sister, and rather adventurous.
John Butler - A school teacher, and head of the Butler Family.
Katie Butler - Greg's older sister, she is very smart, and does her best to keep Greg out of trouble.
Kim Butler - John's wife, who is also a sort of scientist.
Lok - Gorok's oldest son, he is suspicious of the new comers.
Spike - A baby stegosaurus the Butler family decides to keep as a pet.
Tana - Gorok's youngest daughter, she is very curious about the outside world.
Production
Edit
Reception
Edit
Ad blocker interference detected!
Wikia is a free-to-use site that makes money from advertising. We have a modified experience for viewers using ad blockers

Wikia is not accessible if you've made further modifications. Remove the custom ad blocker rule(s) and the page will load as expected.