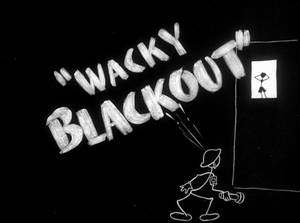 Wacky Blackout is a 1942 World War 2 Era comedic short film on emergency preparedness.
Viewing Link
Edit
Production
Edit
Wacky Blackout is a Warner Brothers Production.
Mel Blanc as the Narrator, Baby Cow, Turkey, Turtle, Caterpillar, Firefly, Baby Bird, Delivery Person, Pa Pigeon, Old Tom
Sara Berner as the Cow, Mother Bird, Ma Pigeon
Kent Rogers as the Dog, the Woodpecker, the Turtle
Director: Robert Clampett
Producer: Leon Schlesinger
Writer: Warren Foster
Musical Direction: Carl W. Stalling
Orchestrator: Milt Franklyn
Film Editor: Treg Brown
Sound Effects: Treg Brown
Animation: Sidney Sutherland and Rod Scribner
Ad blocker interference detected!
Wikia is a free-to-use site that makes money from advertising. We have a modified experience for viewers using ad blockers

Wikia is not accessible if you've made further modifications. Remove the custom ad blocker rule(s) and the page will load as expected.