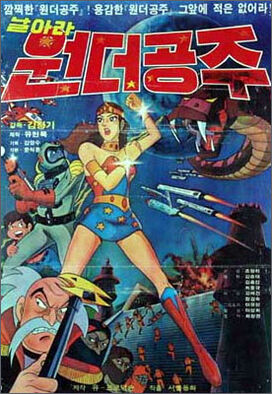 Run, Wonder Princess
(Korean: 날아라 원더공주) aka
Galactic Wonder Princess
is a 1978 Korean animated Superhero film. Wonder Princess is an Alien on the run from a rival alien race, who arrives on Earth, and ends up doing battle against them there. But not before befriending a handsome astronaut. The main character is similiar to DC Comic's Wonder Woman. She shares the twirling transformation from the Wonder Woman TV series which featured Lynda Carter.
Production
Edit
Viewing Link
Edit
Run, Wonder Princess (Korean)
Ad blocker interference detected!
Wikia is a free-to-use site that makes money from advertising. We have a modified experience for viewers using ad blockers

Wikia is not accessible if you've made further modifications. Remove the custom ad blocker rule(s) and the page will load as expected.