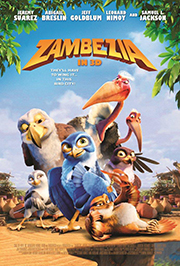 Zambezia
(aka
Adventures in Zambezia
) is a CGI production from South Africa directed by Wayne Thornley and written by Andrew Cook, Raffaella Delle Donne, and Anthony Silverston, it is the first film produced by Triggerfish Animation Studios and distributed by CMG and Sony Pictures in English territories. It tells the story of a young falcon bird who leaves the desolate desert where he lives with his father to discover action and adventure in the big city of Zambezia. It was released to theaters in 2006.
Production
Edit
Reception
Edit
Sources
Ad blocker interference detected!
Wikia is a free-to-use site that makes money from advertising. We have a modified experience for viewers using ad blockers

Wikia is not accessible if you've made further modifications. Remove the custom ad blocker rule(s) and the page will load as expected.